Posts Tagged Mother's Day
I wrote a Debate post last year for Mother's Day, back when the "Weekend Debate" was still the "Saturday Debate".  What you should takeaway from that is that last May, I was fool hearty enough to think believe could squeeze a discussion topic post out every Saturday afternoon. Clearly, this was before I realized my weekends often make the President's daily agenda look simple.  And he's got an entire staff to keep him on track.
In fact, I think I'm going to start referring to the Puddintopia writing area as the East Wing.  Because, why not?
Every morning she wakes them, to groans and denials
Packs healthy lunches and sends them off with smiles
She works through the day, makes their home clean and neat
Guides them through homework, and cooks dinners to eat
She laughs at little jokes, plays games that don't stop
Run to practice and scouts, 'til she feels like she'll drop
Never a complaint, or a word of despair
She sees to their needs, their every last care
She soothes tender feelings, breaks up small fights,
Makes sure they're all happy, and kisses them goodnight
Four little birdlings fill up her nest,
The mother bird toils, never time enough to rest.
Four little birdlings fill up her nest,
And for four tiny lives, she's quite simply, the best.
Happy Mother's Day to the Puddinette and all the mother's out there that work so hard to make our lives seem easy.
Pud'n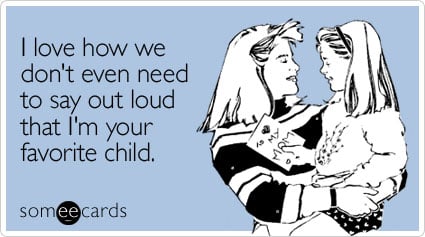 When I asked the Puddinette for ideas to use for this week's Saturday Debate, she said I should make sure it's something topical, maybe even controversial. I suppose there is that whole Time magazine thing blowing around, and "Parenting: Helicopter or Hands Off" might have made for an interesting discussion. Heck, we might have gotten some good old-fashioned name-calling, finger-pointing, and perhaps even a dollop or two of trolling if we were lucky.
But ultimately I decided I had better things to do with my Saturday afternoon than moderate a flame-war between two 30 year-old men pretending to be 18 year-old single mother in the comments. So, we'll skip that topic for the day.
Instead, let's go with something just as timely, but a little more personal. We've all got a mother, right? So, then here, you go then:
The World's Best Mother: Mine or Yours*?
You know what to do in the comments, I hope. Also, don't forget to vote in this week's Mother's Day poll.
Pud'n
*I'll be abstaining from participation in the debate, because I think we all know I'm in a position to skew the outcome (also, because my mom's the best and it's not fair to you other people)